Property prices should grow strongly in most Australian capital cities in 2020 and 2021.
And most Australian capital cities are set to hit new records this year according to Domain's Property Price Forecasts – February 2020.
Domain economist Trent Wiltshire forecasts Sydney will be the strongest property market in 2020 with house prices rising 10% this year and unit prices are forecast to increase by 8%.
Domain also forecasts the Melbourne and Brisbane markets will perform strongly with 8% growth over the year.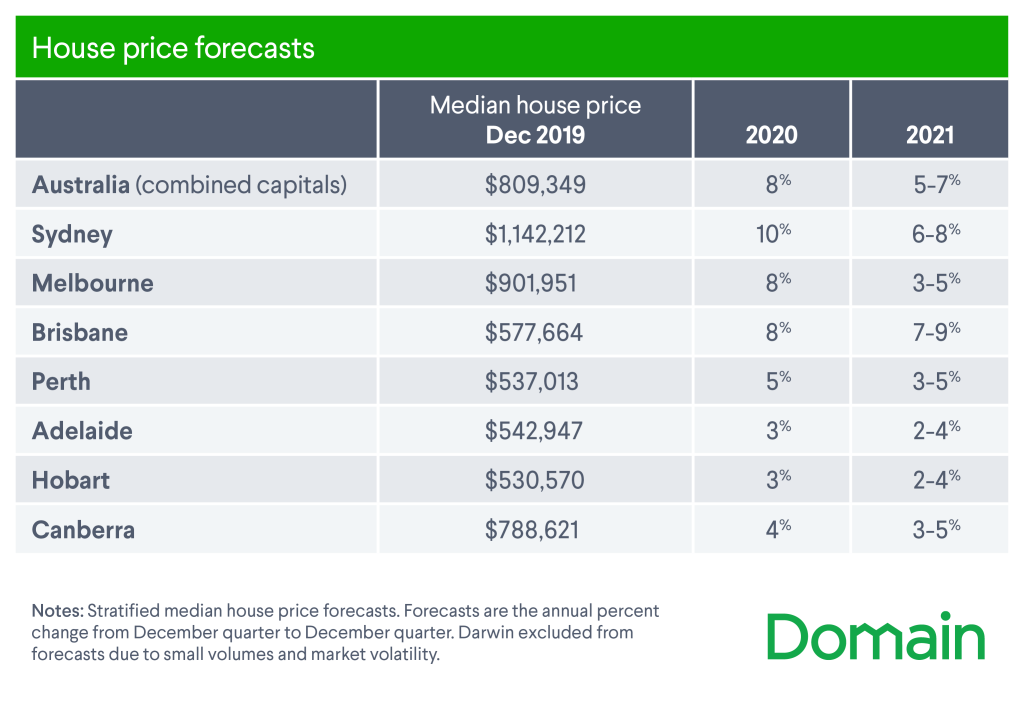 Source: Domain Price Forecasts – February 2020.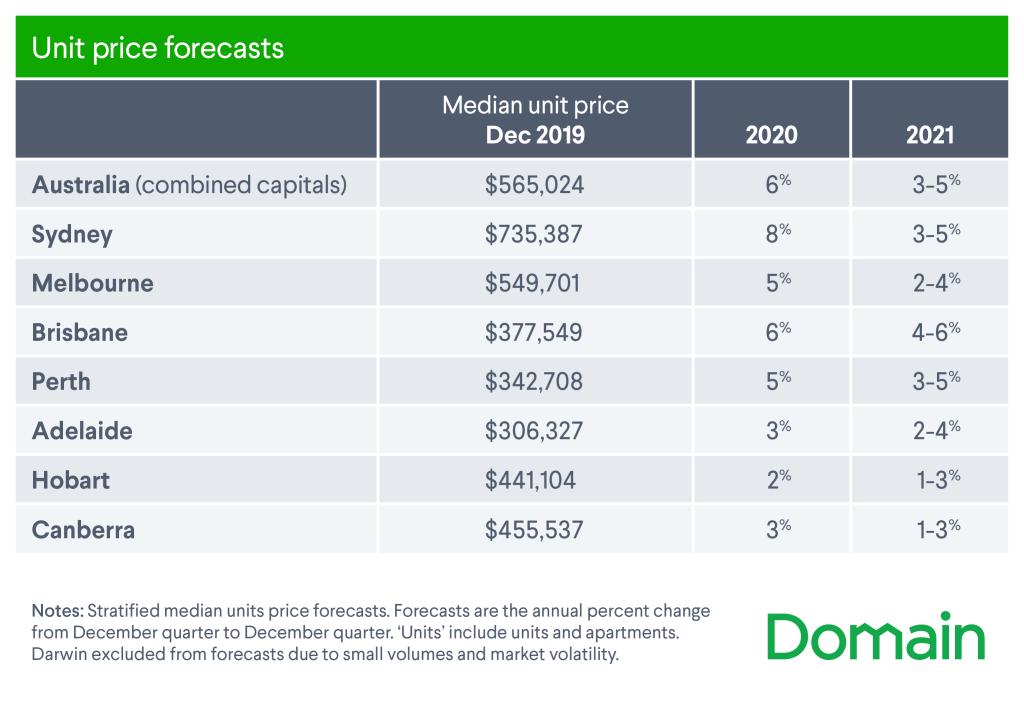 Source: Domain Price Forecasts – February 2020.
These forecasts assume one more interest rate cut this year, an unemployment rate of about 5 per cent and national population growth of 1.6 per cent a year, which all seem realistic, however rapidly rising house prices are again likely to trigger the issue of housing affordability, especially in our 2 big capital cities.
Domain forecasts house prices in Sydney will rise by 10 per cent over 2020 to a new median of around $1.25 million, around 5 per cent above their previous peak, while apartments will rise by 8 per cent to a new median of $790,000 – just above the peak reached in June 2017.
Currently FOMO (the fear of missing out) at a time of a scarcity of good properties for sale is pushing up Sydney auction clearance rates to boom time levels.
Owner occupiers are currently driving the Sydney property market.
While investor activity has also picked up, it is showing milder gains and our experience at Metropole suggests this is because property investors are still finding it difficult to borrow because of the banks' tighter lending criteria.
Domain economist Trent Mr Wiltshire said apartment construction activity is expected to slow dramatically in 2020, which will help keep unit prices growing strongly.
But extra building work may start in 2021 which will contribute to more moderate price growth that year of 3 to 5 per cent.
If, however, construction doesn't respond to rising property prices as quickly as it has in the past, with developers more wary about the strength of the rebounding market and having difficulty obtaining finance, then price growth could be even higher.
Melbourne house price forecast
According to Domain Melbourne's house prices are predicted to soar to a record high by next month and then reach a $1 million median as early as mid-next year, following the strongest property recovery in recorded history.
Melbourne's median house price is forecast to rise by 8 per cent in 2020 and then by 3 to 5 per cent in 2021.
This will mean Melbourne's median house price reaches around $970,000 by the end of this year and will hit the $1 million mark by the second half of 2021.
This is 10 per cent above the recent peak of $909,000 reached in December 2017.
Melbourne's unit prices are expected to grow rapidly in the first half of 2020, following a strong end to 2019, before price growth slows.
Domain is forecasting the median unit price to grow by 5 per cent in 2020 then by around 3 per cent in 2021.
Strong population growth at a time of reduced new apartment construction will continue to underpin property values in Melbourne.
Currently Melbourne's population is growing by around 120,000 per year – this is like adding a city the size of Ballarat to Melbourne every year.
In addition, apartment construction activity will slow in 2020 and interest rates will remain low, both factors which will drive prices higher.
Domain predicts that Brisbane will experience some of the biggest house price rises in Australia over the next two years, surging 8 per cent over the next 12 months alone.
In 2021, Brisbane could be the strongest performing property market nationally, with predictions of an additional 7 to 9 per cent house price hike.
With Greater Brisbane's current median house price hovering at $577,664 (as of December 2019), this could bring the median price to a record-breaking $620,000, making it the first time it's risen above the $600,000 mark.
The turnaround in the Brisbane property market is due to a combination of an improving local economy, rising population growth, lower interest rates and a flow on effect from what is happening in Sydney and Melbourne.
Domain economist Trent Wiltshire predicted a 6 per cent rise in Brisbane's unit market over the next 12 months and said the end of the construction cycle boom for units was rapidly coming to an end.
Want to take advantage of these booming markets?
If you're looking at buying your next home or investment property here's 4 ways we can help you:
Sure many of the property markets around Australia are performing well, but correct property selection is even more important than ever, as only selected sectors of the market are likely to outperform.
Why not get the independent team of property strategists and buyers' agents at Metropole to help level the playing field for you?
We help our clients grow, protect and pass on their wealth through a range of services including:
Strategic property advice. – Allow us to build a Strategic Property Plan for you and your family. Planning is bringing the future into the present so you can do something about it now! Click here to learn more
Buyer's agency – As Australia's most trusted buyers' agents we've been involved in over $3Billion worth of transactions creating wealth for our clients and we can do the same for you. Our on the ground teams in Melbourne, Sydney and Brisbane bring you years of experience and perspective – that's something money just can't buy. We'll help you find your next home or an investment grade property. Click here to learn how we can help you.
Wealth Advisory – We can provide you with strategic tailored financial planning and wealth advice. Click here to learn more about we can help you.
Property Management – Our stress free property management services help you maximise your property returns. Click here to find out why our clients enjoy a vacancy rate considerably below the market average, our tenants stay an average of 3 years and our properties lease 10 days faster than the market average.
Read more: propertyupdate.com.au