Ever considered getting involved in a property joint venture?
More potential investors seem to be interested in this at this stage of the property cycle.
So let's explore some of the issues potential joint venturers frequently encounter when they give their time, money or expertise to a property deal that involves other investors.
Here are 9 questions you should consider:
1. WHAT ARE INDUSTRY ACCEPTED STANDARDS?
There are no generally accepted industry standards or commercial terms that you should offer your potential joint venture partners.
Each joint venture is different, although there are some common elements.
What, for example then, should the active joint venturer in a project offer to the party injecting all of the cash but taking no active involvement?
If, for example, there are three partners and two of them are active and the other one is passive but providing all of the capital, would an equal profit share between the three be appropriate and reasonable?
Yes it would in most circumstances, so that answers the most common question I'm asked.
2. WHAT SECURITY SHOULD BE OFFERED TO CASH CONTRIBUTORS?
The next frequently asked question I'm asked is what security should be provided to the party that provides all of the cash?
It would be appropriate, in my opinion, to offer them a first mortgage over the property, as they'll no doubt be funding the acquisition of the site and start-up costs of obtaining development approvals etc.
Once construction starts, though, the lender to the project will require a first mort gage and the cash contributor will have to step back to a position of a second mortgage, which is also reasonable in the circumstances.
Your anxiety is that tell-tale sign that there's a real chance this probably isn't going to work out.
3. DO WE OFFER THE SILENT JOINT VENTURE PARTNER A POSITION AS A DIRECTOR ON THE MANAGEMENT BOARD?
This is a double-edged sword.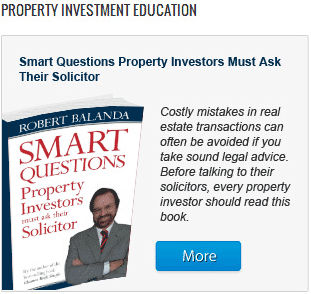 If an investor is to be a silent partner and things go wrong, then you should understand that they won't be so silent.
Holding a position on the board can mean they cause real grief for, say, the other two investors who are actively involved in managing the project.
The downside for the silent partner is that they'd carry exactly the same legal responsibilities being a silent director as they would if they were an active director and do they want the risk?
At the end of the day, most silent joint partners opt not to be a director as they're happy to take a passive role and don't want to assume the risk.
4. WHO SHOULD SIGN PERSONAL GUARANTEES TO THE LENDER FOR THE PROJECT?
Usually the lender to the project will require all directors of the joint venture company managing the project, or which owns the land, to sign personal guarantees that they'll repay the loan.
This, too, highlights another benefit of the silent partner not becoming a director – they won't be required to pro vide personal guarantees.
Having the active partners assume liability as guarantors and the silent partner who injected the cash funds not doing so goes a long way towards evening up the risk assumed by all of the parties and is, I believe, a fair outcome. 
It's worth remembering, too, that once people establish a track record in undertaking joint ventures, they're usually not as willing to offer silent partners injecting cash a mortgage, even a second mortgage, as security for their capital injection.
Instead they'll usually offer them, say, shares in a company or units in a unit trust without any mortgage security.
They'll rely instead on their reputation of completing successful projects as your real "security" if you're the party injecting the cash.
Once they get a number of complete projects under their belt, you'll usually find that they'll withdraw any offers for mortgage security on a 'take it or leave it' basis.
5. HOW DO WE VALUE THE CONTRIBUTION OF DIFFERENT PARTIES?
Do you give different percentages of profit, based on the skills of one party being more valuable to the joint venture than another?
For example, a builder is given a greater percentage of the profit for obvious reasons, whereas a lawyer, whose contribution might be perceived to be no more than preparation of legal documentation, may be given a lesser share.
But is that fair? 
If each party's skills are required to do the joint venture, for example a town planner, law yer, real estate agent or builder, then they should all have an equal share of the profit.
Allowances can be made for their greater time and input into the project, where they carry a greater share of the physical load in terms of hours worked.
They can be paid a project management fee or consultancy fee to compensate them for this greater input.
A builder, too, may also be allowed to charge a profit margin on his building con tract, for example cost plus 10 per cent, as well as receive his percentage of the profit.
This is a reasonable way of compensating him for his greater time input to the project.
6. HOW DO WE KEEP EVERYTHING TRANSPARENT?
I'm a firm believer that a successful joint venture must be based on a transparent and open-book process. That is, at any time any of the joint venture partners must have free access to the financial records and books of the venture.
There should also be no hidden expenses, for example varying the definition of 'expenses' of the project so that a management fee comes out first as an expense before the profits are split.
It should all be transparent and disclosed upfront to all parties so there are no surprises.
7. WHAT IF I STILL HAVE THAT NIGGLING DOUBT?
If after many meetings with your other joint venturers and thrashing out the terms of a preliminary agreement (more formally called Heads of Agreement) to allow you to move forward with the project you still have reservations about whether you want to do business with these people, then don't!
You need to look at it as an opportunity that wouldn't otherwise be there for you without your other joint venturers.
Likewise, if you've followed through after the Heads of Agreement and entered into a formal Joint Venture Agreement you find yourself regularly looking at the terms of the agreement to check what your rights are because you still have a certain level of anxiety, then you should not have under taken this joint venture.
Your anxiety is that tell-tale sign that there's a real chance this probably isn't going to work out.
8. 'BUT I PUT UP THE CASH SO I'M TAKING ALL OF THE RISK'
You sometimes hear this cry from silent joint partners when they're the only ones who have contributed cash.
They can wrongly feel that they're the only ones taking the risk.
This isn't correct, especially if they aren't a director of the joint venture company and won't be required, there fore, to put up personal guarantees to the project's lender.
If that's you then you're probably coming at the project with the wrong mindset.
You need to look at it as an opportunity that wouldn't otherwise be there for you with out your other joint venturers.
Remember there's no such thing as a risk-free joint venture.
You're now someone who's "running with the ball", so you will be tackled.
There is risk but if you've done your home work properly and have a proper joint venture agreement, then this will probably work out alright for you and be an enjoyable and profitable experience that you can build on to undertake other joint ventures with these same people.
9. HOW DO I SOURCE JOINT VENTURE PARTNERS?
Don't advertise!
The joint venture parties should be known to you or known to associates, family or friends of yours so that you can check out their reputation with people known to you.
Undertaking a joint venture with people who aren't known to you or can't be checked out by your circle of family, friends and business acquaintances really increases the risk of something going wrong and is a big negative on the checklist.
Read more: propertyupdate.com.au